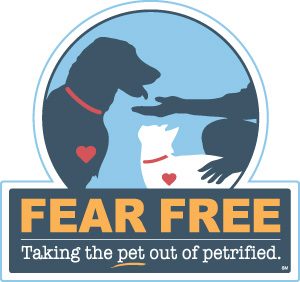 Can you imagine telling your dog, "Let's go to the vet!" and seeing her tail wag? How about getting out your cat's carrier and seeing him come running? Pet owners in Richmond Hill won't need to imagine it if they visit Dr. Howard Covant or Bayview Seven Animal Hospital, a Veterinary Hospital in Richmond Hill. That's because they are part of a new initiative sweeping veterinary medicine designed to ease the stress, fear, and anxiety so many pets experience while at the veterinarian. Known as Fear FreeSM, the training and certification program helps veterinarians and staff modify their procedures, handling, and facilities to help pets feel safe and comfortable while receiving the medical care they need
Founded by veterinarian Dr. Marty Becker, the Fear Free training program was developed by board-certified veterinary behaviorists, veterinary technician behavior specialists, board-certified veterinary anesthetists, well-known veterinary practice management experts, and boarded veterinary practitioners experienced in Fear Free methods. "Providing veterinarians with the tools they need to ease this burden of fear and anxiety of our patients is the pinnacle of my 37-year veterinary career," said Dr. Becker, who was dubbed "America's Veterinarian" by Dr. Oz and appeared on "Good Morning America" for 17 years. "Veterinary professionals are hungry for this information. Animals and their humans need and deserve it. And now it's here!" To become certified, veterinarians and veterinary staff are required to complete a comprehensive, 8-part educational course and exam. They also have to take continuing education to remain certified.
Do your furry family members suffer from fear, anxiety, and stress (FAS) triggers such as:
Trips to the veterinarian
Bath time, brushing, nail trims or cleaning ears
Loud noises like thunderstorms; fireworks; the vacuum cleaner; construction; even buzzers on appliances
Less-familiar people or animals encountered on walks or near the home
Being left alone during work hours or even for short errands
Travel, including car rides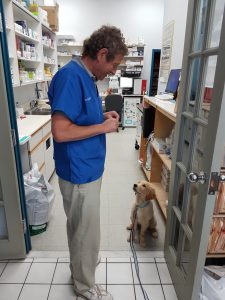 The Veterinarians in Richmond Hill will guide you to understand the root causes of FAS and how to work with Fear Free Certified Professionals as well as at home to build up your pet's confidence, calmness, and happiness. From Fearful to Fear Free we will educate you on positive steps you can take at home, pheromones, and/or medications a veterinarian can prescribe that may help your pet. All to keep your dog calm and happy, and how to help your dog love — yes, love! — visiting the Veterinarian in Richmond Hill, literally pulling them into the practice instead of avoiding it!
Developed by "America's Veterinarian," Dr. Marty Becker, the Fear FreeSM initiative aims to "take the 'pet' out of 'petrified'" and get pets back for veterinary visits by promoting considerate approach and gentle control techniques used in calming environments. Utilization of Fear Free methods and protocols leads to reduction or removal of anxiety triggers, which creates an experience that is rewarding and safer for all involved including pets, their owners, and veterinary health care teams. Learn more at www.fearfreepets.com. Pet owners who would like their pets to experience the Fear Free difference can schedule an appointment by calling 905-764-1144.
If you found this blog informative, please share it with your friends on Facebook . Please call us (905)764-1144 for any questions or search for more articles on our website: www.bayviewsevenanimalhospital.ca
Sincerely,
Practice Manager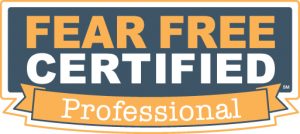 Bayview Seven Animal Hospital
"Your healthy companion is our pride & joy"
Bayview Seven Animal Hospital, a veterinary clinic located on Hwy.7, one block West of Yonge, serving all pets in Markham, Richmond Hill, Thornhill, Vaughan and North York since 1988. We are your family vets for dogs, cats, rabbits, pocket pets and birds.
Disclaimer: No part of this website constitutes medical advice. Readers are advised to consult with their veterinarian.