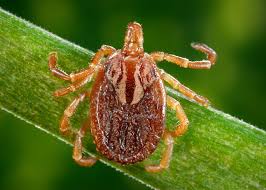 The time for tick protection is now!  The Canadian Veterinary Medical Association and the veterinarians in Richmond Hill want you to know that the ideal time to begin tick protection is before exposure.  Ticks will brave the cold for warm blood, make sure it is not your pet's or yours.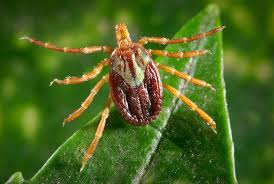 Ticks will quest for an animal (or a person) to feed on as long as the temperature is 4ºC or above, which, in our area, means right now!  A questing tick positions itself on a blade of grass, a leaf or other vegetation. It stretches its clawed limbs outward and waits for hosts to pass by. Ticks can't jump or drop down onto their hosts — when a host brushes against a questing tick, the tick simply hangs on. In many tick species, larvae quest at ground level. Nymphs climb a little higher into vegetation to find slightly bigger hosts. Adults climb highest of all in their attempt to find large animals to use as hosts.
Tick populations are increasing, as is their range across Canada, and York Region is no exception.  The conventional tick hangs onto grass and waits for its next victim to approach them — whether it's a human, dog or wildlife. "Lone Star ticks will walk or run towards a meal, so they're aggressive ticks. The last one in the lab was alive and even though she was fully fed, the moment I started handling her, she escaped the vial and ran towards me," said Dr. Vett Lloyd, a University of New Brunswick professor.  "There's no such thing as a good tick, but these are the worst," she said.
What are health officials doing?
In May, the federal government poured $4 million into the country's first-ever Lyme disease framework. It's a guide that will help Ottawa with establishing national surveillance, issuing guidelines and educating the public about the illness tied to tick bites.  The Public Health Agency of Canada says that it's anticipating the "possible expansion" of the Lone Star tick's range into Canada. It's even developed a risk modelling method and is researching the possible impact of warming climates on the tick's populations.  "We aim to be able to identify locations in Canada that may become suitable for the Lone Star tick in the near future. We are also using our passive tick surveillance data to study where Lone Star ticks are being carried into Canada by migratory birds" Maddison said.
Because some ticks can transmit diseases, such as Lyme disease, it's important to learn as much as you can about them.  The risk for exposure is highest in regions where ticks infected with the bacteria that cause Lyme disease are known to be established.  This includes areas along the north shores of lake Erie, Lake Ontario and the St. Lawrence River.  New surveillance findings have identified blacklegged ticks in the Rouge Valley and some of those ticks have tested positive for the bacteria that causes Lyme disease.  Because blacklegged ticks can be transported by birds and other wildlife across regions, the veterinarians in Richmond Hill remind you that there is a chance of being exposed to Lyme disease through contact with infected ticks almost anywhere in Ontario.  York Region Public Health will continue to monitor for ticks at various locations across York Region, including the Rouge Valley.
The veterinarians in Richmond Hill recommend that you: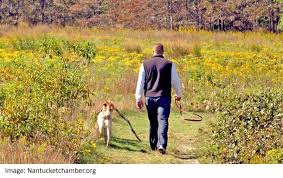 Take precautions when visiting any woodland habitats (tall brush/grass, areas covered with leaves etc.) where ticks may be present.
Check yourself and your pet for ticks after spending time outdoors.
Promptly remove any ticks you find.
Ensure your pet is on effective tick control medication.
If your pet is not already on tick control medication , contact your veterinarians in Richmond Hill NOW to discuss how you can best protect your pet against ticks.
Removing a Tick:
Grasp the tick with a set of tweezers as close to the skin as possible.
Slowly pull the tick straight out until it is removed.
Do not squeeze the tick.
Do not put anything on the tick or try to burn it off.
After removing the tick, thoroughly cleanse the bite site with rubbing alcohol and/or soap and water.
Place the tick in a moistened paper towel.
Place the paper towel with the tick in a screw top container like a pill bottle or sealable plastic baggie-do not us a class container.
Store the container in a refrigerator or freezer until the tick can be submitted for testing.
Submitting a T
ick for Testing:

You can submit a tick to your doctor or your local public health unit.  It will be identified and if it is a blacklegged tick it will be tested for Lyme disease.
Public Health Offices in York Region
Markham:  4261 Highway 7 East, suite B6-9, Markham, Ontario, L3R 9W6  www.york.ca
As always you can count on the veterinarians in Richmond Hill for support and advice
If you found this blog informative, please share it with your friends on Facebook .  Please call us (905)764-1144 for any questions or search for more articles on our website: www.bayviewsevenanimalhospital.ca
Sincerely,
Julia Lohasz
Practice Manager
Bayview Seven Animal Hospital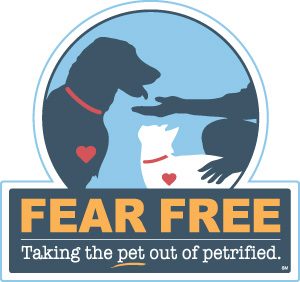 "Your healthy companion is our pride & joy"
Bayview Seven Animal Hospital, a veterinary clinic located on Hwy.7, one block West of Yonge, serving all pets in Markham, Richmond Hill, Thornhill, Vaughan and North York since 1988. We are your family vets for dogs, cats, rabbits, pocket pets and birds.
Disclaimer: No part of this website constitutes medical advice. Readers are advised to consult with their veterinarian.