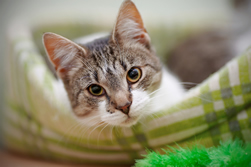 A clean pet is a happy pet when you bring them in for professional groomings in Richmond Hill, ON. Find out why it's important for the health of your pet that they come in regularly for a real grooming.
Why groom your pet?
The goal of our pet groomers in Richmond Hill is to help your pet both look and feel their best. Just as humans need to bathe and stay clean, so do your family pets. Here are some of the benefits of a regular professional grooming:
Regular bathing prevents dog and cat hair from matting and also reduces how much they shed. It will also provide them with a shiny, healthier looking coat.
Sanitary areas can be a nuisance and rather unpleasant experience to clean yourself. But soiled fur can cause irritation and other hygienic issues for your pet. By coming in for sanitary trimmings and anal gland cleanings we can prevent issues from arising in these more sensitive areas.
While a manicure or pedicure may seem like a rather luxurious experience for people, keeping nails trimmed for your pet will ensure that they won't experience painful splitting (also, it will prevent them from scratching up your furniture and you!).
Dogs can get gum disease and plaque buildup, too. To prevent tooth loss and other issues they need to have their teeth cleaned regularly to prevent these issues.
Frequent ear cleanings and flushings can also minimize buildup and prevent painful infections from affecting your dog or cat.
How long will it take?
The length of your pet's grooming will depend on the services you are looking to get and the breed of your pet. To find out how long it will take, be sure to talk to one of our professional groomers in Richmond Hill. We have two groomers on staff who work seven days a week to provide your pets with the hygienic care they need as conveniently as possible.
Whether you need to schedule your pet's first grooming or you need to book their next examination, turn to Bayview Seven Animal Hospital for all of your pet's needs. Our Richmond Hills, ON veterinarians are here to ensure that your pets live a long and healthy life.